Back to top
Fangfang Gao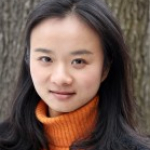 Office:
545 Main Building, Xixi Campus, Zhejiang University
Biography
Degrees
Publications
Projects & Grants
Courses
Dr. Gao's major research interests include new media, journalism, environmental communication, and gender studies.
Ph.D. in Communication, University of Florida, 2011
Lu, W. & Gao, F. (2017). Social media, social integration and subjective well-being among new urban migrants in China. Telematics and Informatics, 34(3), 786–796.
Gao, F. (2016). Environmental Communication: Media, Public and Society. Hangzhou, China: Zhejiang University Press.
Gao, F. & Martin-Kratzer, R. (2011). New scheme of communication: An exploratory study of interactivity and multimedia use in Chinese j-blogs and the implications. Asian Journal of Communication, 21(1), 69–83.
Armstrong, C. L. & Gao, F. (2011). Gender, Twitter, and news content: An examination across platforms and coverage areas. Journalism Studies, 12(4), 490–505.
National Social Science Fund (P.I.)
Framing and Communicating controversial scientific issues, 2016-2019.
Humanities and Social Sciences Foundation of Ministry of Education (P. I.)
Environmental communication: Public agenda of air pollution issues in China, 2015-2018.
Women, Media and Chinese Society